The Occupational Safety and Health Administration establishes specific standards, according to the agency's rules and regulations, for protecting workers. Employers that fall within the purvey of the agency are required to comply with these guidelines.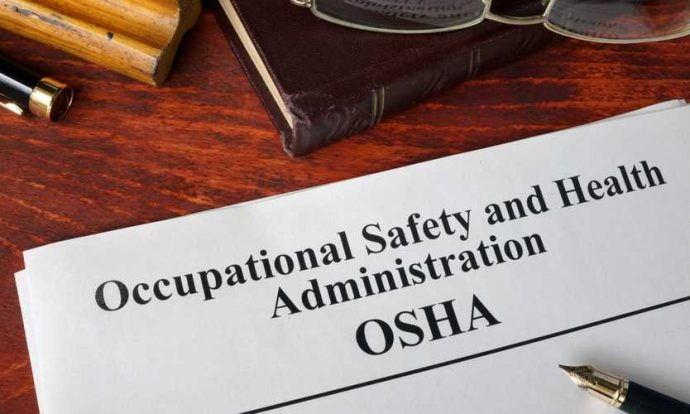 image source: here
OSHA conducts inspections of workplaces as part of the agency's effort to ensure the compliance with its standards. The failure of an employer to comply with OSHA standards can result in fines being levied against that business. The nature and extent of a fine imposed by OSHA depends up the severity of a fine and a business' history in regard to OSHA compliance.
In addition to maintaining compliance with the workplace standards established by OSHA, a business also needs to maintain certain types of insurance. Two types of insurance are designed to address issues relating to a person injured on the premises of a business. These are worker's compensation insurance and liability insurance.
Overview of Worker's Compensation Insurance
The laws of each state mandate when and how a business is to obtain and maintain worker's compensation insurance. There are a few exceptions as to when a business must maintain this type of insurance. With that said, in most states, most businesses do need to obtain and maintain worker's compensation insurance for their employees.
In basic terms, worker's compensation insurance provides coverage if a worker is injured during the course of his or her employment. The worker's compensation system provides specific coverage to a worker in the event of an accident. The existence of worker's compensation coverage allows both an employee and a worker the ability to avoid litigating injury claims in the judicial system.
Overview of Liability Insurance
Liability insurance also provides coverage to a person who is injured on the premises of a business. As a general rule, an employee of a business would not make a claim under a business' liability insurance policy. Rather, a worker seeks compensation via the worker's compensation system in his or her state and through a business' worker's compensation insurance policy.
An example of a person who might seek compensation through a liability insurance policy maintains by a business would be a customer who is shopping in a store, slips and falls, and ends up injured. The first step of seeking compensation through a policy of liability insurance is filing a claim with an insurer. If a claimant is unable to obtain what he or she feels is a fair settlement and appropriate compensation, that injured individual can the proceed with pursuing a personal injury lawsuit.
Compensation in a Worker's Compensation Case
Compensation potentially awarded in a worker's compensation case is a matter of state law. Worker's compensation statutes in a particular state set forth how money and financial recovery in the case of a workplace injury.
Compensation in a worker's compensation case fall into a number of categories. First, money is awarded to take care of more immediate and ongoing medical care and treatment. In addition, recovery can also be had for more immediate wage losses.
A worker's compensation financial award also takes into account the long term consequences of a workplace injury. In a good many worker's compensation cases, a permanent disability must be contended with. Worker's compensation laws typically set forth guidelines which set forth the compensation received depending on the nature and extent of the work-related injury disability.
Finally, when it comes to the global award in a worker's compensation case, the final award also includes financial recovery for lost wages an injured worker is reasonably expected to face into the future because of some sort of physical impairment. This is based on the injured worker's salary or wage history.
Compensation in a Personal Injury Case
Compensation in a personal injury case that occurs at a business, but does not involve a worker injured during the course of his or her employment, depends on the facts surrounding an accident. Compensation also hinges upon the nature and extent of injuries sustained.
There are certain types of injuries, damages, and losses for which compensation commonly is sought in a personal injury case, including one involving an accident at a place of business. These include:
medical bills and expenses
pain and suffering
mental anguish and emotional distress
permanent disability
lost income
As is the case with a work comp claim, an injured person is entitled to more than just compensation for losses to date. An injured person may be entitled to financial recovery for losses reasonable expected to be incurred in the future.
Jessica Kane is a writer for OSHA Campus Online, where you can complete a variety of OSHA training courses 100% online at your convenience.