Summer is finally here so why not make of the most of the sun's rays while it lasts! Even if you don't have the chance to have a garden, it's easy enough to bring a fresh air of vacation into your home, thanks to a few accessories for your patio, veranda or balcony. From Edinburgh to London, open those windows and let the shine comes in with our selection of trendy looks for your home decor. Create a space where you will be able to relax and enjoy the sun, on your own or with a few guests for an alfresco dinner party.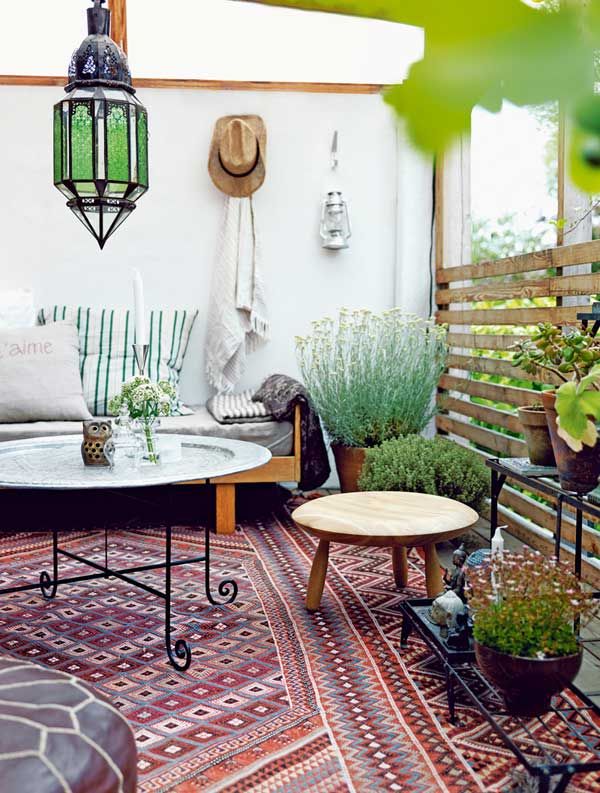 Cane all over everything
Cane chairs and other accessories are super on trend right now. They're especially perfect for summer use as cane is a material that is well suited to indoor as well as outdoor use. This material brings a touch of nature and warmth to your home decor, perfect to welcome the summer months, in the form of a carpet, sofa and ottoman chair. They're great paired with patterned fabric and other natural materials.
Light garlands for a little bit of magic
Garlands are sure to transform your patio in the long summer evenings: left to hang along a wall, in trees and plants, it will bring a cosy atmosphere to your patio with minimal effort and budget.
Into the forest
Plants can really help to liven up an outdoor area – they look especially great when paired up with dark woods and stone materials. Busy homeowners and gardeners should opt for low-maintenance outdoor plants like yarrow, agave and portulaca. Cactuses too will look great outside and do not require any water: they're also very much on trend and you will be able to take them in in the colder months.
Graphic patterns all over everything
Graphic patterns are great to add a touch of colour to your patio or to dynamise a small outdoor space without having to splash the cash. Look out for printed cotton carpets, cushion covers and blankets in your favorite home decor stores to recreate a bohemian terrace look, perfect for summer.
Aromatic herbs and stylish planters
Get over your lack of gardening space with an aromatic planter in your very own terrace and recreate your urban garden. You can get some stylish planters in various materials such as wood for a vintage sunday market vibe, ceramics and even in creative upcycled metal tins.
Not only will it bring a touch of green to your space, but it will also enable you to liven up those summer salads in style with your very own production of coriander, basilic, thyme and parsley. Yummy!