Efficient warehouses are at the heart of distribution networks that move essential goods from companies to consumers across the world.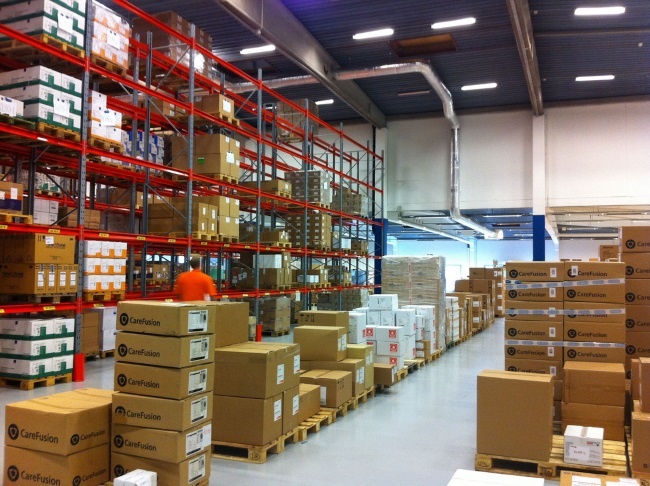 Image: here
And as a company's operational area extends, maintaining a ship-shape operation can become challenging.
But here are four hacks for running an efficient warehouse that should set you on the right track.
Location
Finding the right location is a no-brainer.
You'll need to find a site with an existing warehouse or with sufficient space to house one you'll build.
It should also be perfectly positioned for transport links so that goods can be delivered and dispatched swiftly.
Amazon's one million square foot warehouse in Dunfermline, Scotland, is the size of 14 football pitches — but its Central Belt location also brings excellent transport links to locations throughout the UK.
And if your facility will significantly boost local employment you may be able to apply for government assistance to help with set-up costs.
Layout
Your warehouse needs to be big enough to cope with the projected growth of your operation — so you'll need to research how much space you anticipate is required.
And when you're faced with a huge empty interior you've got the ideal opportunity to plan floor layout properly from the start.
A two-tier mezzanine warehouse allows you to maximise space through creating a second floor full of product shelving. But fixed and mobile shelving can also be useful, depending on the type of products you stock.
Product placement is also crucial — ensuring that your most popular products are easy for picking staff to locate saves time and money.
Inventory control
Knowing how much stock you have of every single product is vital — if you lose control of inventory chaos will ensue.
Colour-coded shelving with clear signposts is a good start, but larger warehouses might invest in supply chain management software to keep things running smoothly.
These systems can integrate with barcode or radio frequency identification technology in handheld devices carried by every staff member — simplifying large-scale picking and packing processes.
If technology is user-friendly then it'll help staff to work quickly and accurately.
Staff
An experienced warehouse manager who can motivate and support staff is a must-hire.
Working in a busy warehouse is demanding and requires a specific skillset — but if your staff don't feel appreciated they'll eventually leave, taking their expertise with them.
Paying competitive wages is one way to motivate team members — but a healthy culture with useful perks might be more powerful.
And specialist training from experienced staff should be mandatory — a mentoring scheme and progress monitoring can help new talent cope with a steep learning curve.
It's likely to be some time before the largest warehouses are completely automated — so happy and healthy employees are your greatest resources.
Without a dynamic and agile distribution network even the largest companies can fail and even short-term dips in service standards can severely dent profits and reputation.
But these four hacks for running an efficient warehouse should help you lay the foundations for sustained success.
Is your warehouse the key to your success? Share your stories in the comments section.