Hurricane Harvey is serving as something of a cautionary tale, and not just for the people who have been directly impacted by what is proving to be one of the most catastrophic storms in the history of the United States. Hurricane Harvey is also sending a message to people across the country, including small business owners. Part of that message involves underscoring what business owners need to do to ensure that they are prepared for some sort of event that might somehow interrupt the operations of their business enterprises.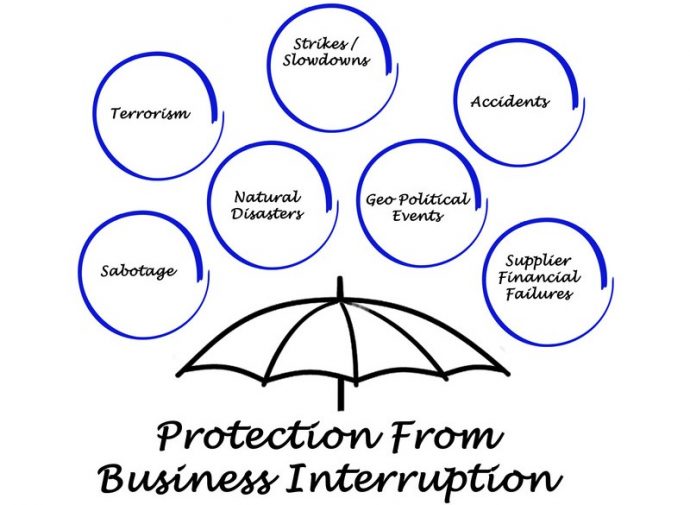 image source: here
A business owner is wise to give serious consideration to obtaining a business interruption insurance policy. This type of insurance coverage can prove beneficial to a business in a number of different ways.
Definition of Business Interruption Insurance
Business interruption insurance is a type of coverage that provides compensation for losses sustained by a business in the aftermath of some sort of disaster. Coverage covers certain revenue losses associated with the closing of a business because of some sort of disaster. In addition, a policy can provide coverage during the period of time in which a business is involved in the rebuilding process.
You need to bear in mind that this type of insurance coverage differs from that associated with property damage. In addition, you need to understand that business interruption insurance is not a part of a traditional policy of insurance covering property damage or loss.
Type of Coverage in a Business Interruption Insurance Policy
As is the case with all type of insurance, a business interruption policy sets forth specifically what is covered. With that said, there are some types of losses that typically are included within the coverage provisions of a business interruption insurance policy.
Profits represent the type of loss that is included in the coverage of a business interruption insurance policy. In order to determine what is to be paid in the way of lost profits, an examination is made of the financial history of the business. This may include looking at the profit from the most recent month or taking into account more than one month in making the calculation.
This type of insurance typically covers what are known as fixed costs. These represent expenses a business will continue to face even when it is shut down because of some sort of disaster.
In some cases, a business can pick up operations by moving to a temporary location. Some policies will provide coverage for the costs associated with a temporary relocation of a business.
Time Period Coverage is Provided
As is the case with the extent of coverage provided, the specific time period in which compensation will be provided is set specifically by the terms and conditions of an insurance policy. With that noted, as a general rule, a business interruption insurance policy will provide coverage for the time period that starts on the date of what is known as the covered peril.
Using Hurricane Harvey as an example, the commencement date of coverage for a business would be the date on which a business' facility flooded and became unusable. As a general rule, the term of coverage will run from the date of the peril to the date when repairs are completed and operations can resume. An insurance policy usually reference that operations must result under the came conditions that prevailed or existed prior to the disaster that caused the shutdown.
Some business interruption insurance policies will include a waiting period before coverage kicks in. For example, a business needs to be nonoperational for a specific number of days before coverage commences pursuant to a business interruption insurance policy.
Pay Attention to Exclusions
As a business owner, if you elect to seek business interruption insurance, you must review the insurance policy closely. You need to pay particular attention to what are known as exclusions that may be included within the policy.
Exclusions eliminate coverage for certain types of disasters or events. In order for this type of insurance coverage to be beneficial to you and your business, it must provide suitable coverage for the type of disaster that you are most likely to experience.
Hurricane Harvey provides a solid illustration. A business interruption insurance policy would not prove helpful to a Houston, Texas, business owner if it excluded coverage for a business interruption caused by flooding or wind damage.
Keep in mind that exclusions in a property damage insurance policy do impact coverage in a business interruption policy. As noted previously, these are two separate and distinct contracts of insurance.
Jessica Kane is a professional blogger who writes for Documents International LLC, a leading apostille service for individuals and businesses.