Summer may soon be over, but it is not yet too late to plan an escapade. Thinking of the perfect last-minute summer getaways? Keep on reading and we will provide you with insights on some of the best places that can be taken into account. Enjoy the warmth of the sun while you can!
Book Overwater Villas in Bora Bora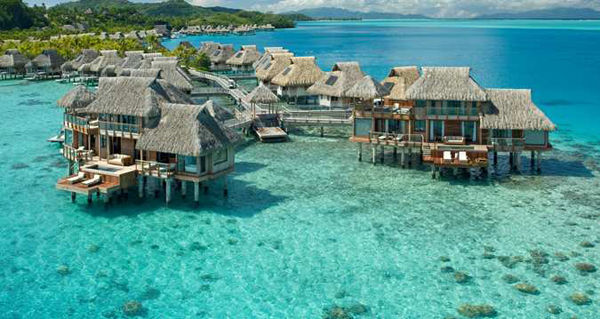 Source: here
If your family loves the sea, Bora Bora is an exotic paradise that should be explored. Book one of the overwater bungalows from some of the top-notch resorts. Many of these bungalows are equipped with lavish facilities, such as your own pool. This gives your family the privacy that you want. The best thing is that you can hop straight into water. For a more hassle-free experience, some bungalows have butler service, making sure that someone is immediately available when you need help in any way.
Wine Holiday in Bordeaux
When you speak of wines, one of the first places that will most probably be mentioned would be Bordeaux. This lavish French destination is known for being the home of some of the finest wines in the world. It is abundant with scenic and relaxing vineyards, which can offer the perfect respite for the whole family. Because they have good wine, expect to enjoy good food as well. Do not also miss seeing their museum that has been built specifically to showcase the culture and history of wine. If there are a few of you, it can be fun to all stay in a villa.
Villa Holiday in Spain
Spain is also an excellent choice of destination in the summer. Should you decide to go here, do not just stay in any hotel. Rather, book a villa that can accommodate the whole family. Self-catering villas can provide you with more freedom and privacy. If you want to make it more luxurious, book one that comes with butler service. Look for a villa that has a pool and other facilities that can be enjoyed by the whole family all throughout your stay.
Stay at Domes of Elounda in Crete
Crete is one of the most stunning locations in Greece. For families who love the beach and island life, this is a highly recommended destination. While there are plenty of accommodation options available, one of the best would be Domes of Elounda. It is the epitome of haute living. It is luxurious and family-friendly. There is an in-house spa for relaxation and rejuvenation. They have world-class restaurants for you to sample the best Greek cuisine. Most importantly, they have impeccable service.
Rent a Cottage in the Cotswolds
If you are looking for a place where you can enjoy old-world charm and a serene ambiance, the Cotswolds should be on the top of your list. Book a trip with the whole family and make sure to rent one of the traditional cottages. They are perfect for an idyllic escape, away from the hustle and bustle of the city. Make your holidays more memorable by taking a leisurely walk in its small towns. As you go for a stroll, you will surely be in for a visual treat.