As a business owner you're likely adept at putting out fires.
The flames you're used to smothering, though, involve appeasing fuming employees, keeping the taxman off your back and making sure your firm's reputation doesn't go up in smoke.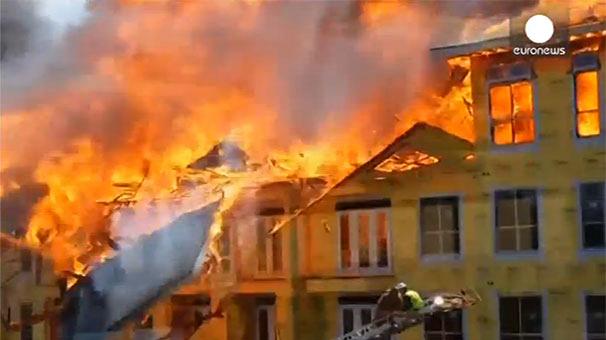 However, if a real fire broke out in your building, you'd be as alarmed as the rest of us.
So imagine your surprise if you rolled up to your premises ready for another day in the trenches only to be confronted with a scene akin to a battleground from a big budget sci-fi film.
Sirens wail. Firefighters rush by. Ash smoulders. Rafters clatter down. Dreams shatter.
You stagger back horror-struck, surveying the scene through a kaleidoscopic mix of tears, cinders and disbelief that your life's work could be destroyed so effortlessly by a remorseless blaze.
In one fell swoop you've gone from a highflying business owner riding the crest of a wave, to a soot covered bystander at the mercy of your insurance company.
But that's enough drama for one day.
In order to prevent such a dramatic scenario then, it's important your business is not only physically equipped to deal with the threat of fire, but that your employees are also kept in the loop.
Here's how …
Blast Protection
Whether the fire ripping the heart out of your premises is intentional or not, it's vital to have a blast protection system in place to shield personnel who happen to be in this area from injury or death. It should also ensure that, if an explosion does occur, your firm's downtime will be reduced.
Firefighting Equipment
Although you may have been told to fight fire with fire, this approach rarely works well when your office is ablaze. Consequently, make sure your firm has a range of fire extinguishers in place, smoke alarms to warn the troops and fire blankets to help stop the flames from spreading.
Educate Your Employees
Even if you're the most fire conscious owner since the famous Steve Fireconscious, it's important your employees are on the same page. As such, ensure that fire safety regulations are taught in the workplace and that each member of staff knows how to vacate the building if things do go awry.
Admittedly, the list above is far from exhaustive, but with a little common sense and forethought, your business will be better equipped to deal with the ravages of fire.