When it comes to home improvement, professional renovations can cost an arm and a leg. However, if you're willing to give it go, there are plenty of minor, aesthetic renovations you can pull off without calling in a professional. While jobs that require complex electrical, plumbing, gas, or structural alterations should be left to the professionals, some minor demolition or aesthetic alternations can save you money and be a rewarding feat.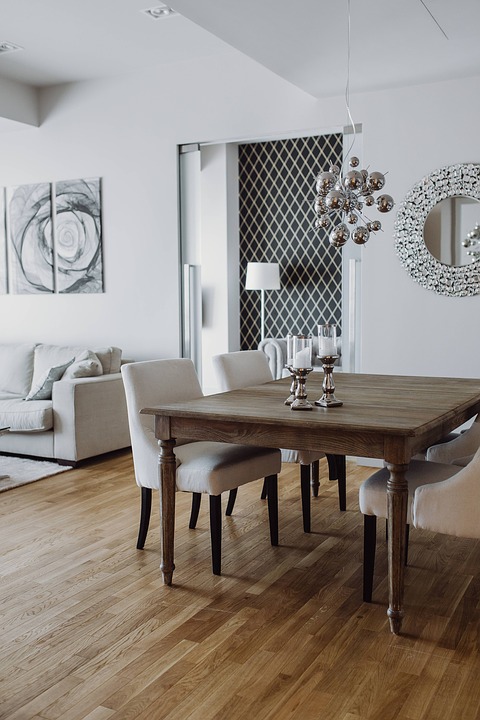 image source
Revamp Your Kitchen Cabinets
Your worn, outdated kitchen cabinets may seem like an inescapable shortcoming of your home, but there are a number of small improvements you can make to drastically improve them. For structurally sound cabinets, the fix may be as simple as a new coat of paint. In other cases, new doors, drawer covers, and modern hardware can be installed with just a few simple tools and serve as a complete facelift. Even for experienced DIY renovators, demolishing entire cabinets may be out of the question. Nevertheless, with the proper planning and attention to detail, installing new cabinets can be done without a professional.
Change Your Floors
Maybe your floors don't match the color palette you envisioned or they're worn beyond recognition. Whatever the reason, you'd be surprised at the diverse selection of easy to install, inexpensive floorings you can select from. Click-lock laminate flooring, for example, imitates hardwood flooring. Yet, the planks are modestly priced and can be installed without glue or other messy elements. Similarly priced and easy to install, grouted tile and vinyl sheets can offer a welcome adjustment that can be achieved with a handful of gadgets and a little elbow grease.
Wall-Mounted Shelves
If you're looking for a way to embellish a modest space or exhibit some of your favorite things, wall-mounted shelves may be your answer. From floating wooden shelves to those connected by an industrial rigging, there are plenty of attractive choices you can make and install in less than a day. Most shelves can be installed with just a few basic tools, such as a screwdriver and level. However, it is a good idea to invest in an electronic stud finder to assure you don't damage your drywall.
Make an Entrance
When we think of transforming a space, we often focus on the larger aspects, such as the floor, wall, or furniture. Yet, interesting accent pieces can draw attention away from imperfections and spark the imagination. One way to do this on your own is to transform a doorway. Spruce up your front door with a lovely coat of paint, change doorknobs over from the contractors pick to salvaged hardware, or cover your children's door with a coat of chalkboard paint to create a makeshift easel.
While the internet is flooded with creative door fixes, one of the simplest but most outstanding is the DIY barn door. If you're looking to make a dramatic change to a room without calling in contractors or applying for construction permits, installing this rustic track system and a hefty door is a great weekend project.
Let there be Light
Overhead lights can make bold statements and add a bit of artistic flair to a flavorless backdrop. Better yet, there are countless styles and a wide range of price tags associated with different fixtures. If you're looking to get rid of an outdated overhead light or simply replace an ordinary piece with something more extravagant, you can probably get the job done all by yourself.
Of course, when it comes to electricity extreme caution should always be taken. When in doubt, the manufacturer's instructions should offer strong words of caution and straightforward instructions to complete the job. As a rule, the electricity should be shut off at the source prior to the start of any work. If you manage to successfully complete the job, changing over sockets and light switches are probably also within your scope as a DIY renovator.
If you're willing to get your hands dirty and have some time to spare, there are plenty of straightforward home renovations you can do yourself. In many cases, you can dramatically transform a space without paying the hefty price tag of a contractor. While some jobs really should be left to the professionals, small surface improvements are a fun and rewarding process.
Jessica Kane is a writer for OSHA Campus Online, where you can complete a variety of OSHA training courses 100% online at your convenience.