New York is undoubtedly one of the world's most significant tourist destinations, and much like any hotspot, it has countless "must see" attractions that everyone knows. However, although these landmarks deserve all of the attention that they get, sometimes it feels better to discover something a little out of the ordinary.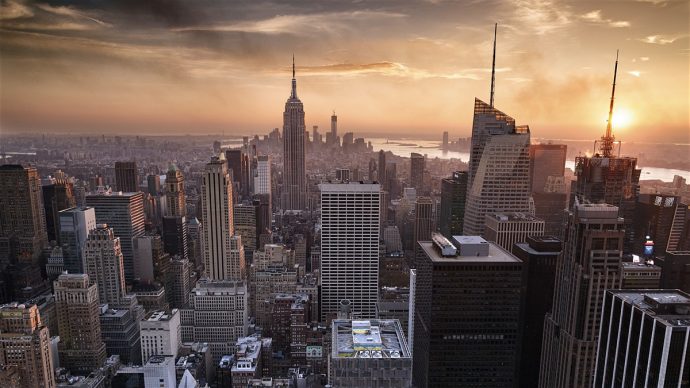 image source: here
New York, being the expansive metropolis that it is, still has a plethora of unique and interesting spots that are yet to be discovered by the rest of the world. For every towering skyscraper, there's a quirky museum or a hidden bar just waiting to be found. Therefore, we've put together a list of our top 5 hidden treasures in New York, so that you too can enjoy some of the city's most charming secrets.
1 – Mmuseumm
Mmuseumm is the well hidden modern history museum created by entrepreneur Alex Kalman. Located in a converted freight elevator down an alley in Chinatown, the eclectic selection of exhibits that occupy MMuseumm's walls make it one of the most uniquely intriguing places to visit in the city, as well as a polar opposite to the more traditional museums that call New York their home. Planning ahead is advised as it's only open Thursday through Sunday, but if you can get there, it's definitely worth a visit.
2 – Fragment of the Berlin Wall
Although not many are aware of this, there is in fact 5 panels of the iconic Berlin Wall situated inside the lobby of 520 Madison avenue, just a short walk from the Museum of Modern Art. Segments of the legendary wall can be found in various locations all over the world, but this particular slab is one of largest sections that has been kept intact, thus making it particularly significant.
3 – City Hall Station
Originally opened as part of the cities inaugural subway line in 1904, the City Hall station is now inoperative, but this doesn't mean that you can't witness its spellbinding beauty. Closing in 1945, the stations distinctive architecture and design is an absolute treat that can only truly be appreciated in the flesh, however, doing so can be difficult. There are guided tours provided by the New York Transit Museum, but these are infrequent, so if you want to make this visit a part of your trip then it would be advisable to book in advance.
4 – Staten Island Boat Graveyard
If you're willing to go a bit further afield, then Staten Island's Boat Graveyard is one of the most undeniably interesting places in all of New York. This Salvage Yard is home to a mass of decommissioned ships, many of which hold significant historical importance. Whether you're a ship enthusiast or you're just looking for a truly unique experience, the Boat Graveyard is undoubtedly one of the eeriest yet most powerful sights that the city has to offer.
5 – PDT (Please Don't Tell)
PDT is one of many hidden speakeasies that can be found around New York City. Now infamous for it's attempts to stay hidden, the bar is located behind a vintage telephone booth in Crif Dogs, a hot dog restaurant in the East Village. The atmosphere in PDT really makes it feel like you're part of an exclusive group, predominantly thanks to its smaller size, 'hidden' entrance, and traditional 1920's style.
If this has got you planning your next trip to New York, then you'll want to check out the competition by  tombola bingo, to be in with a chance of winning a trip to Big Apple. You'll be able to put visit our very own hidden treasures yourself!