If you are planning a dinner party, you may want to do something special For example, the gathering may be planned for an important birthday or to celebrate some other meaningful occasion. You may desire to make a truly elegant presentation for your dinner party, but want to make it in a manner that is neither overly pricy or time consuming.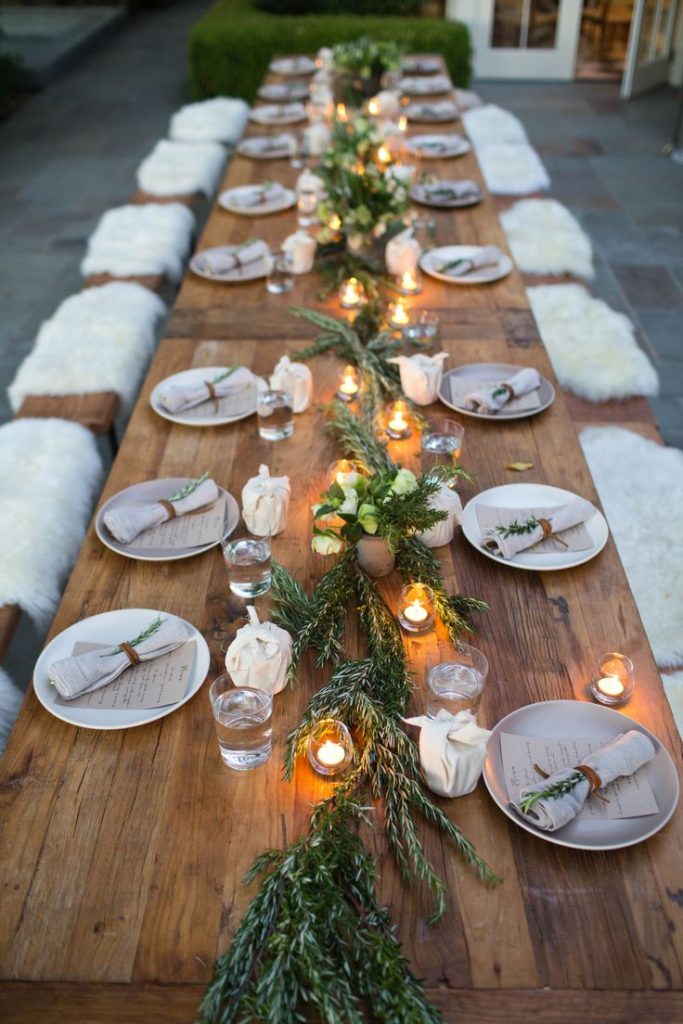 image source: here
There are seven tablescaping strategies that you should bear in mind when planning your next dinner party. These strategies include innovative tablescaping ideas that you might not have thought of previously.
Silver is Still the Standard for Elegant Dining
Decorating and design concepts have become wildly innovative in the 21st century. These creative concepts certainly can be appealing and vibrant. However, when it comes to setting an elegant table for a dinner party, you must keep in mind that silver is still the standard.
When it comes to elegance and dining, silverware and associated accoutrements really remain a must. You certainly can host a dinner based on some sort of theme. When doing so, you can bring forth table settings of different types. However, and again, if the goal is elegance, stick with silver.
If you are interested in tablescaping for a particular holiday, you should be able to find decorative pieces in silver as well. For example, if you are planning a Christmas dinner, silver ornaments, bells, and similar pieces can be incorporated into the overall tablescaping effort.
Mix to Match
When it comes to an elegant tablescape, you can add some flare. One way to accomplish this is by what we call mixing to match.
One way you can mix to match is by setting a table with print on print. For example, you can pair up florals of different, by complimentary, hues and slightly different design. Taking this approach will provide not only an elegant tablescape but a vibrant punch as well.
Napkins Matter
When planning an elegant dinner party, napkins matter and linen tends to be best. Monogramed napkins add an added dash of style to a dinner table.
White napkins tend to be the best choice in that they harmonize well with silver. That does not mean that a white linen napkin cannot be spiced up a bit. For example you can select a white linen napkin that comes complete with a colorful trim. Indeed, the trim on a napkin can be made seasonal. This addition could include red or green for Christmas or blue for Chanukah.
When thinking monograms, you can be creative. Rather than place cards, utilize differently monogramed napkins for your elegant dinner party. Yes, this can be an added expense if you want to customize the monograms to meet the initials of each guest. However, there are relatively inexpensive ways to accomplish this unique objective.
Fresh Flowers are a Must
When tablescaping for an elegant dinner party, fresh flowers are a must. When it comes to selecting fresh flowers for your table, you need not default to roses or other often utilized flora. In regard to floral arrangements for an elegant dinner party, you have a great deal of room to be creative.
Ideally, when a tablescape is to bespeak elegance, you should seriously consider using a crystal vase or vases for a fresh flower bouquet. It's not mandatory — what is mandatory in this day and age? — but, a crystal vase definitely is preferable.
A Seasonal Touch
Reference has already been made to adding a holiday touch to an elegant table scape. Beyond referencing a specific holiday in an elegant tablescape, you can also incorporate something or another that is generally seasonal. In other words, the tablescape you fashion for an elegant dinner can include a touch of winter, spring, summer, or fall, as appropriate.
Elegant doesn't need to be utterly dull. One point at which you can add a touch of whimsy to your elegant tablescape is through the restrained introduction of a seasonal touch on an elegant dinner table. For example, in the fall, you could discretely include a few tiny gourds about the table, perhaps clusters of fall leaves. In the wintertime, think silver accoutrements like tiny snow-people (not just men) or snowflakes.
In the end, you can turn out a tablescape for an elegant dinner that will both impress and invite. You can enjoy yourself, indeed have fun, in the process of designing and laying out an elegant tablescape. You will be setting a table for an dinner and evening that will long be remembered by your guests.
Jessica Kane is a writer for Silver Superstore, home of the internet's best flatware.