Some homes just feel good don't they? They are filled with positive energy bringing you calms and peace of mind. The art of Fens Shui has been looking for ways to introduce more of this positive energy into the house for centuries. Before you buy a house, here are six feng shui tips you should keep in mind.
Location, location, location
Even the most stunning of houses can lack the positive energy if it's badly locate so before you take out your wallet inspect the neighborhood. You'd think that silence is advantageous but according to Feng Shui, too quiet is not good at all. Look for places with life around – people going about their daily business, children playing, pets, birds, plants. Try to avoid unorganized, cluttered spaces and all signs of decay, badly maintained buildings, and bumpy roads. If a newer area is more to your liking, check out sites like www.coralhomes.com.au to get an idea of what's available.
That's just the shape of my house
Modern architecture knows no limits and sometimes you might wander what happened to the good old rectangle looking at all the fancy floor plans of contemporary houses. Feng shui stick to traditions by opting for rectangle house shape with 3 to 2 ratio – meaning too long or to wide is not good. The door should be placed on the shorter wall as a house that's too wide detracts good energy.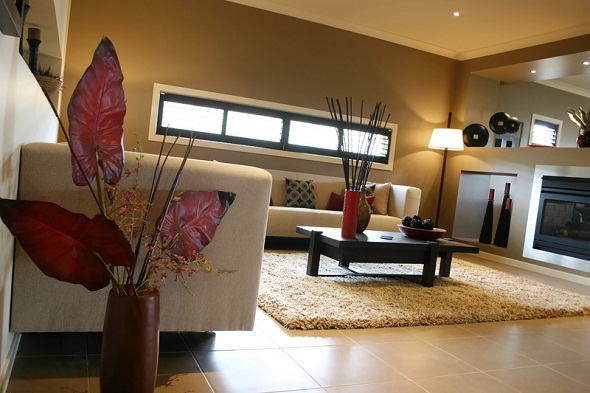 Land matters
The piece of land that the house comes with is of grave importance. The shape of the land plot should resemble a rectangle. In this rectangle, the house should be placed so that there is more space behind than in front. The front should be open and inviting, the back should have some backdrop like a mountain range in the distance. It's also good to avoid houses located on hilltops.
Rooms location
Feng shui is quite precise when it comes to room position within the home. Here are a few examples: The bathroom should be placed more to the outside than the inside of the house to avoid drainage of energy. Bedrooms placed over empty spaces like garages or laundry rooms might result in disease. The master bedroom should be placed more to the back of the home for a more peaceful setting.
Enter the house
If it's all about energy, it's important to grant it a good entrance to the house. Good by Feng Shui standards usually means open and uncluttered. And once the energy is in, it should flow freely around the house. Avoid staircases, bathrooms, or the placement of the back door in line with the front door.
Feng Shui dont's
Feng shui tells us not only what to do, but what to avoid in house construction. Some of these don't' are as follows:
Avoid numerous rounded arches, anything over two is bad.
Too many sharp corners are bad, but you can round them up by placing a plant in the corner for example.
Have mirrors in next to the bed in the bedroom.
Have a house that's hard to move around – just take a careless walk around the place and see if you don't bump into tings and walls.
It might be Ancient and mystical but Feng Shui still gives us great direction to better, more complete leaving. If you're in the market, be sure to check out websites like Keep it in mind when buying a house.