The market for PC operating systems is mature and there is a wide range where each user can find the one that best fits their needs. If if you decide to change and you have doubts about which to choose, here's some things to help you decide. Although we are fully into the post-PC era, laptops and desktops are still very much alive. They have shown strong commitment with constant updates from giants like Apple and Windows operating systems improving their desktops and catching up in both technology and trends. Although sales of PCs and laptops continue to fall compared to tablets and smartphones, millions are still being sold worldwide. Here's a brief review of the four major operating systems and the target audience they are aimed at. If you're thinking about buying a computer soon, maybe this can help you decide.
Windows
The most used operating system on the planet for 30 years that made Microsoft the most valuable company in the world for years and its founder Bill Gates one of the richest men in the world. It's the OS many of us grew up with. It is expected that the end of support for Windows XP Microsoft is expected to help improve the support of implementation of Windows 8.1, as it still remains well below XP and Windows7.
Windows is an operating system for everyone. It can serve everyone, but not completely satisfy almost anyone. It is functional, with the biggest range of applications where there is room for all software. It allows changes and ability to modify it to OSX, but on the other hand it is more unstable. As the most popular operating system, it is also a favorite target of all those who try to profit at our expense. Viruses, Trojans… the Windows ecosystem is full of them and even though other operating systems also have this problem, Windows beats them by a landslide.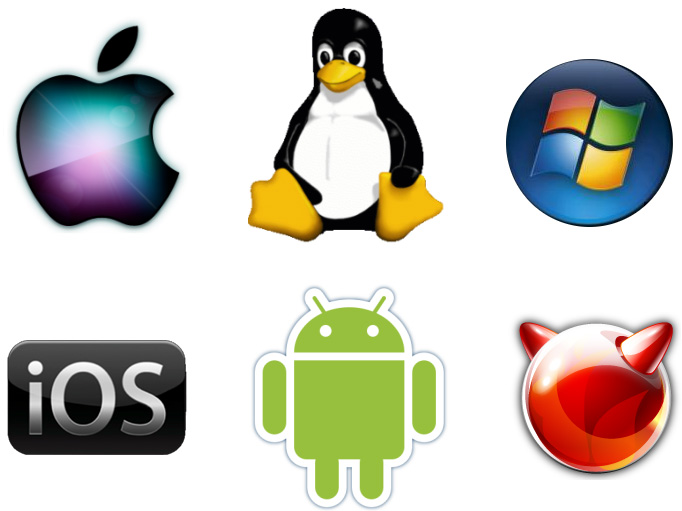 GNU / Linux
Linux, the free operating system par excellence takes years to develop and improve thanks to the participation of thousands of developers around the world that support the benefits of free software. Among the advantages of Linux are: power, stability, security against virus and the possibility of modifying the operating system to suit the user. However, this has the disadvantage that for the primary and secondary user it can be more complicated to set up. To alleviate this problem, in recent years there have been some more friendly and easy for less experienced users variations. If you love to tinker, modify and change the settings of your operating system, and if you're a believer in the virtues of free software, Linux may be your best option.
OSX
This operating system is exclusive to Apple products and will not leave. It has been gaining market share in recent years thanks to the rise in popularity of their products. If at first they were mainly used by a minority dedicated to the design, in recent years thanks to the iPod, iPhone and iPad, its audience has expanded, covering a wide spectrum. Computer scientists, journalists, designers, creators of all kinds.. All profiles, professional or not, have fallen to a greater or lesser extent rendered to the benefits of a stable, simple and elegant operating system. But Apple products have a considerably higher price. The design, quality and brand are paid. This operating system could be for advanced users or not, they do not have the need to modify or change the package purchased greatly. If you do not want to waste time reinstalling operating systems, repairing permissions or looking for errors, this is your operating system.
Chrome OS
Last one to have taken advantage of technology and user habits and business changes. U.S. Chrome has begun to claw market share at the expense of Windows and OSX. Chrome OS runs on Chromebooks. Different brands of computers are slowly releasing their Chromebooks based on the concept of Google. Its strengths are browsing speed, simplicity and price. Being able to dispense with the more powerful hardware against its competitors, Chromebooks can be sold at a more affordable and competitive price. It is designed to carry out all the work from the browser, so you do not need a large hard drive or excessive hardware requirements.
Under this concept, for the Chrome OS built for this market the most complete equipment is not necessary. If you spend all your time on the computer surfing, using Google products and want a computer at an affordable price, this may be your choice.