There seems to be no end of design ideas for a girl's perfect bedroom, but what about the boys? From football crazy to the great outdoors, you can really let your imagination run wild when it comes to ideas for decorating your son's bedroom. To adults, a bedroom is a place to relax, a haven of retreat with a color scheme to match, but your son has other ideas about his room – filled with adventure and play, a space he can call his own. You want the room to be functional and easy to tidy: he wants a den to retreat into, and a place to stash all his figures and gaming equipment. Add a touch of imagination and you can both get what you want!
Go wild with an elevated bed
Elevated beds are perfect for young boy's bedroom. Not only does he get to clamber into bed every night into his own little den, but there is also another enclosed space underneath suitable for a desk, wardrobe or cushion-covered reading area. With the right color scheme and accessories, this room design can easily be transformed into a safari camping theme. Raised beds offer a practical all-in-one space ideal for small bedrooms, and the extra height can be used to create the ultimate adventure camp setting.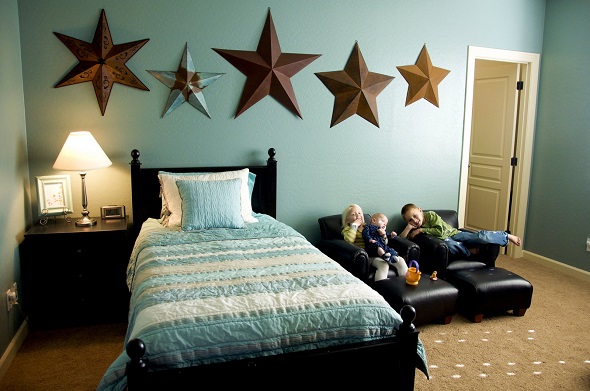 Tap into children's interests
If your son is a sport fanatic, incorporate this into the room design with cool wall stickers, baseball or football-themed accessories, pillows and cushions and a color scheme inspired by his favorite team's colors. Or encourage his love of science and astronomy with a space-themed bedroom complete with planetary lampshade and cool solar system ceiling design. Today's furniture stores have plenty of great items that are specially designed for kids and their interests.
Don't forget he's going to grow up
Remember too how quickly boys grow up, so look to the future and don't make it too childish – get a bed that extends as the child grows and neutral, module furniture that can change usage as your child grows up. Use bold, 'grown-up colors' like navy and dark grey and neutral and drapes that he won't curse you for the first time he invites a friend to play.
Create a multifunctional space
Remember to keep it practical and multifunctional: don't just create a space for gaming but also one that encourages reading, with a desk for homework. Buy a cabin bed with plenty of built-in storage space underneath it. Bunk beds are also a great investment, even for an only child, as they offer plenty of room for the many sleepovers to come. Utilize the vertical space – the walls – even if the room is relatively large: provide plenty of storage areas and perhaps you might even encourage your son to tidy up!
If two boys are sharing, try to incorporate both of their interests into the room. Rather than just dividing the space up between them, try to bring them into a common ground that will encourage sharing and playing together.