Please visit the infographic below and leave your comments for living in London or Amsterdam, two great cities with traditions in history and arts. Amsterdam is a cozy town is very central with big contrasts. This cool city keeps an old feature of life tolerance. The town is filled with Restaurants, Clubs, Cinemas, Theaters, Galleries and Museums. Do not miss the Rijksmuseum, Van Gogh Museum, the Rembrandt House.
Lots of canal houses beautiful Canal Ring. Amsterdam is not crowded and it has a good public transport system but the best way is to go by bike. The charm of this town is felt on the air in Leidseplein and Rembrandtplein. People are open minded very straightforward and speak English very well , lots of expats.
London is the cultural capital of Britain exciting city with many tourist attractions such as: Buckingham Palace, Houses of Parliament, London Eye renowned across the globe. The famous attractions free to visit, for example the National Gallery, Tate Modern, British Museum, the Victoria and Albert Museum. London is diverse but very well connected and offers amazing views like The Royal Parks or Hampstead Heath in the North. The river Thames runs through the heart of London to Greenwich so you can take great river tours and enjoy the views but do not forget the Regent's Canal and Little Venice.
Should you wish to take a culinary journey stop at Michelin-starred restaurants where are many celebrity chefs and plenty of food options. Not a bike friendly as Amsterdam is and overcrowded public transport. So get ready to explore and experience the best cities in the world.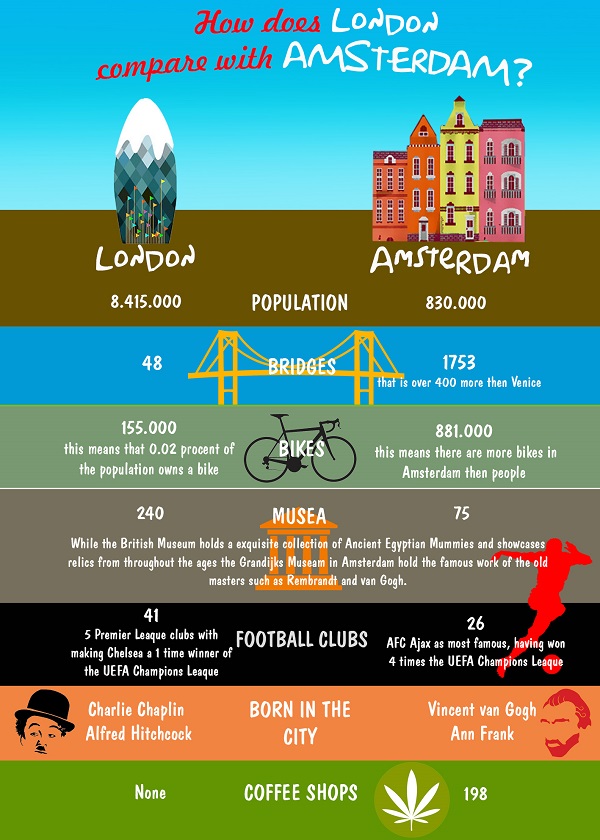 Source: Amsterdam vs London