Our planet is full of breath-taking scenery; every corner of the globe offers beauty and places a visitor will never forget. If you are planning a wedding abroad it can be hard to narrow the hundreds of possible choices to just one.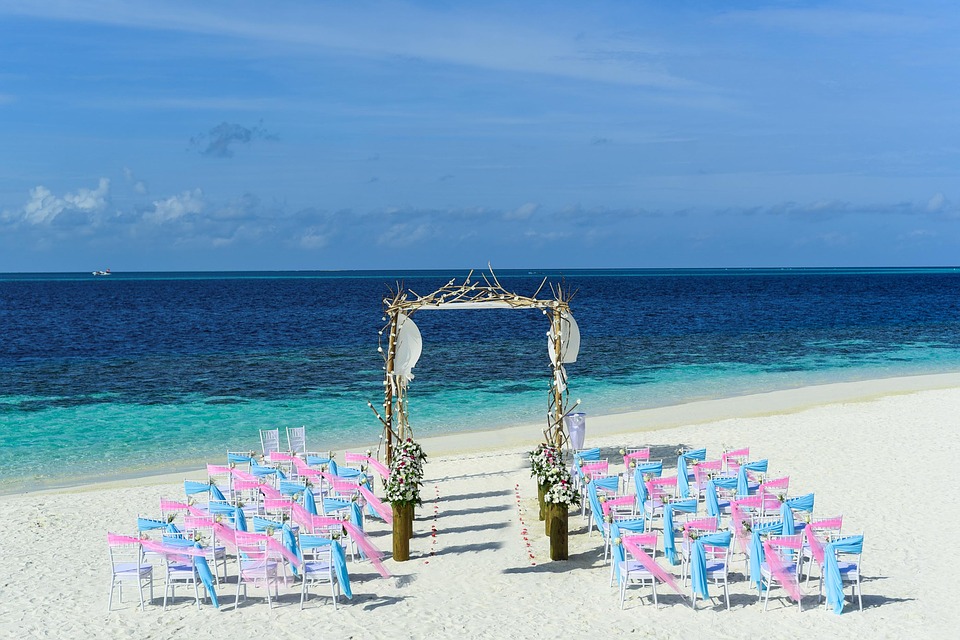 We've put together a guide of some of our favourites to help you pick the perfect place for your nuptials.
The Seychelles
These beautiful islands are perfect for a castaway style wedding. There's soft, fine white sand to dig your toes into as you say your vows serenaded by the waves. Designer wedding dresses should be lightweight, floaty and as beautiful as the romantic location you've chosen.
Masai Mara, Kenya
Are you a nature lover? Do you crave adventure? A wedding on the Masai Mara would be truly unforgettable. Mahali Mzuri specialises in small, luxurious ceremonies. Wedding planners are on hand to arrange a spectacular wedding that may be witnessed by a passing elephant.
Tulum, Mexico
Get married here, on the romantic coast of Mexico, and your wedding photos with you wearing a choice of stylish designer dresses are guaranteed to be gorgeous. The Mayan ruins of Tulum are nearby as are the turquoise waters of the incredible sinkholes. Scenery and culture combine to make your wedding truly unforgettable. Add a bright colour to the theme of your wedding to highlight the exotic local flowers and your designer wedding dress.
Emerald Bay, Lake Tahoe
This beautiful part of California would be the perfect place for a wedding. Part of the State Park, this is one of the most photographed locations in the US. Marry your beloved against this dramatic backdrop before setting off on a road trip around the West Coast.
Highclere Castle, Newbury
Plan your wedding at Downtown Abbey and be the Lord and Lady of the Manor for your special day. Elegant lace overlay or duchess satin designer wedding dresses would be perfect for this grand setting. Friendly staff and a magical backdrop promise to deliver a fabulous day.
The Racha Hotel, Phuket, Thailand
Racha Yai is one of the Far East's most beautiful islands. Set in the Andaman sea, this tiny paradise is perfect for a barefoot, beach wedding or even or larger ceremony in one of the resort's eco villas. Far from the frenetic mainland relax on white sand and hitch the skirt of your designer wedding dress for a paddle in the warm, crystal clear sea.
Kauai, Hawaii
Lush tropical surroundings have given Kauai the nickname of The Garden Island. Designer dresses decorated with trendy 3D flowers would be perfect for a wedding on this gorgeous island. With a friendly, relaxed vibe, sunshine and the opportunity to find true seclusion this is a bride's dream location
Aspen, Colorado
The ultimate wedding location for lovers of the great outdoors. Epic mountain scenery and breath-taking valleys will be the ultimate backdrop for your ceremony and an exciting place to explore on your honeymoon. Brides could tuck their hiking boots underneath their wedding dress and wander into nearby hills to create an amazing wedding album.
Lake Como, Italy
Sapphire blue lake waters and a stunning mountain backdrop. Lake Como has been famed for its beautiful scenery for generations. Be part of Hollywood history as you get married in surroundings used in many iconic films over the years. Italian food is, of course delicious, and your wedding breakfast is sure to wow your guests.
Lake Bled, Slovenia
Lake Bled is straight out of a fairy tale so imagine you are a member of royalty on your special day by choosing from designer wedding dresses fit for a Princess. Bled Castle is a particularly fabulous venue for your wedding. It overlooks Lake Bled offering commanding views of the lake and surrounding hills and will give your wedding a sense of grandeur and decadence. Quirky, traditional touches are a lovely addition as your guests will be met at the castle gates by a medieval knight in full regalia.