Nowadays companies do not decide to measure customer satisfaction even though these are the greatest assets that any company may come to have. It is incredible that many companies neglect them. Customer Satisfaction is no more than the degree of conformity experienced by a person when making a purchase or using a certain service, this means that when a customer experiences a high level of satisfaction, the chances of him becoming a return customer increase. How to deal with this? What many companies turn to are customer survey questions which are meant to gather as much feedback by customers as possible in order to improve services and solve possible problems. Here are 6 reasons why companies need to measure customer satisfaction.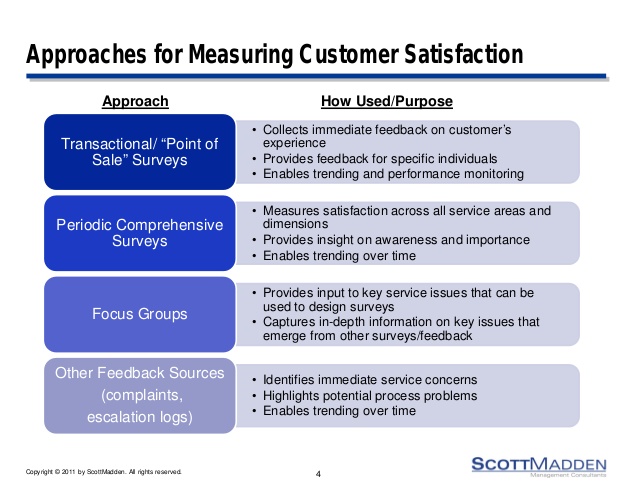 image source: here
Dissatisfied Customers will not do business with your company again
Most people who do business with you expect excellent treatment or a product that fulfils what is promised, otherwise your level of satisfaction will be reduced drastically and therefore, the likelihood that they will do business with you again decreases considerably. The best way to prevent this is to take care of any details related to the product or service you offer. Another way to prevent your clients from being dissatisfied is to solve the problems that are presented or explaining each difficulty that has been had.
55% of consumers do not finish the purchase process due to poor service received
Convincing a consumer to make an important purchase is a process where many factors come into play. The most important of them, without doubt is the customer service, since the treatment that a company provides to its customers directly influences the feelings of any buyer. Thus receiving a bad deal causes the customer to have a bad perception of the company, contributing to the abandonment of the purchase process. If you treat people in a friendly and attentive way, always looking for their satisfaction, be sure that the success rate in the buying process will increase greatly benefiting your company. That is why it is important to provide the customer with the necessary channels to express and measure customer satisfaction periodically.
70% of the buying experience is based on how the customer is treated
As we mentioned in the previous point, the customer treatment has a great weight in the feelings of the buyers. This influences them in many aspects related to the final purchase. A good deal can influence the perception of the product or service itself. Decide to measure customer satisfaction and take care of what happens during the client's journey, in order to provide positive experiences at each point of contact.
If you solve a problem in favour of your customer, it is 70% certain that this customer will do business with you again
Everyone who does business with you wants this process to be a pleasant experience, but this does not mean that they expect you to be perfect, there is a very popular phrase from Donald Porter which reads as follows:
"Your customers do not expect you to be perfect. What they do expect is that they solve a problem when something goes wrong."
Only 43% of dissatisfied clients who complained felt their problems were solved
Measuring customer satisfaction and listening to their opinions is an activity that you should take full advantage of. Sometimes it is necessary to seek feedback and opinions from your clients by using online surveys. Do not see the complaints as annoying. In the business environment they are ground gold. Expressions of unsatisfied customers give you the opportunity to improve what is wrong, and it is a vote of confidence to show that you are willing to find a solution. They are giving you a very valuable opportunity to show how worried you are about your customers being happy.
55% of consumers are willing to pay more if they are guaranteed a good experience
This data may be surprising to some, but reality is something that has been well present in the service industry for a long time. The clearest examples are the so-called "First Class", "Premiere" "Deluxe" or any name that gives certain prestige to the service provided. Offering a good service involves making use of many resources that will surely raise the final cost, however more than half of consumers are willing to pay for it. You could ask how willing they are to make that payment through a satisfaction survey.
Create your market research plan and get better results
As you probably already have understood, the customer experience plays a very important role in the success of any company, so many companies make use of various technical resources to measure customer satisfaction and know the opinion of their consumers to improve their experience shopping. Usually online surveys are used to collect this kind of information; the most common way is to send a questionnaire to evaluate the shopping experience just after having provided a service or after receiving a product.
There are also other methods such as online communities or online panels to gather information, measure customer satisfaction and establish a closer relationship with your customers. Through these it is possible to obtain a great quantity of qualitative and quantitative data offering a series of incentives, promoting the loyalty between brands and consumers.