A trip to Abu Dhabi will leave you speechless. Everything here seems accurate and calculated in every detail. This Arab Emirate, one of seven that make up the United Arab Emirates is the largest and is also the capital of the UAE. With its enormous oil wealth this city is the richest on the planet. Huge skyscrapers, luxurious hotel and villas in Abu Dhabi are nothing like the rest of the world. It's this kind of beauty that you are not used to seeing every day.
Dinner on the Formula 1 circuit of Yas Marina
At least once in life you have to dine at one of the restaurants of the Yas Hotel. The experience is well worth it. The cuisine options are appealing to everyone, since you can choose from an international variety. Spectacular LED lighting and the famous Formula 1 circuit at your feet, Yas Marina Circuit, there's nothing better than that.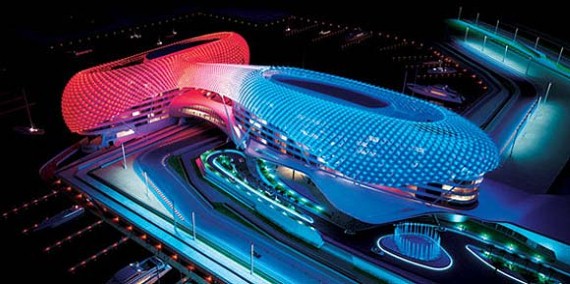 Have a drink on the terrace of  Pearls & Caviar, with the best view of the city
The Pearls and Caviar is a place located in the prestigious Shangri-la Hotel. It consists of two levels: the low part, where the first restaurant and the terrace type cocktail lounge is located, and the open space with its comfortable white sofas, chill out music and fabulous views of the Grand Mosque.
Speed up at the Ferrari World
A trip to Abu Dhabi also means discovering the Ferrari World. A theme park dedicated entirely to Ferrari with the famous Formula Rossa, the fastest roller coaster in the world, the Galleria Ferrari, Speed ​​of Magic and many other attractions under the huge red roof.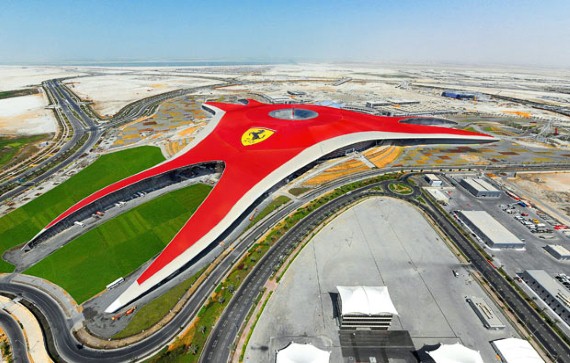 Enjoy the sea and the sun in Monte Carlo Beach Club
 Spend a day at the Monte Carlo Beach Club. Sit on one of the squashy sofas and a drink on hand and you'll realise this is what life is all about! The Monte Carlo is the first private beach club in Saadiyat Island. Its name means "island of happiness" and it's a name worth given. It is 500 meters away from the coast and hence has to  be reached by crossing one of the bridges that connect it to the shore.