Katy Moran
Katy Moran is an exciting talent, specialising in an abstract style that evokes memories of this powerful post-war movement that was unlike anything the world had ever seen.
Her work continues this legacy, all the while adding her own distinct voice in a very contemporary sense. There's a lot going on in her work, thick with paintings and lavish with ideas, making them compelling viewing.
She lets the work evolve naturally and once remarked that the composition of any given painting concludes when she finally 'sees something'.
As she once told Phaidon: "Painting's exciting – it's about pretending you are out of control, trying to introduce accident, chance and things that are unplanned that interest and surprise you more than anything you have consciously or intellectually conceived."
Charles Willmott
Powerful, passionate and supremely brilliant, Charles Willmott is one of the best figurative realists working in the UK, a master of capturing something human in his paintings.
He inspired by what he describes as three main disciplines – the art of dance, the beauty of the female form and the magic of portraiture – and the artistic rendering of this has been his life's preoccupation.
"As subject matter I would probably have to confess to a near obsession with dance, particularly the ballet," he has previously said.
"I've enjoyed the privilege of working with many greats, like Darcey Bussell, Miyako Yoshida, Monica Zamora, Kevin O'Hare, Catherine Batcheller and Joe Cipolla … My admiration for the beauty and grace of dancers has deepened my interest in distilling the essence of the female form."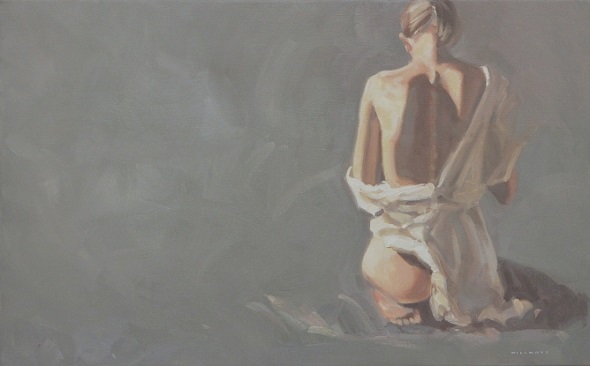 Kathleen Herbert
Inspired, intrigued and invigorated by the idea of 'space and place' and the narratives that they hold within them, Kathleen Herbert is an inquisitive artist keen on learning more about the world and then delivering the stories she comes across in a unique way through her work.
"I enjoy researching the apparent uninteresting or unsaid, which through further investigation reveal social political, and spatial narratives which are defined and redefined through history," she has explained.
They can take on an uneasy form. For example, one of her films, Stable, which came into existence after someone had made a casual reference to horses being kept in Gloucester Cathedral's, sees the animals given the liberty to explore the church.
That strange juxtaposition, all at once real and mythological, has a real impact on the viewer, challenging them to engage with the past in a more physical and emotive way. Was this story real? If not, it is now.
Christian Furr
Christian Furr made history in 1995, when at the humble age of 28, he became the youngest ever artist to receive a commission to paint an official portrait of Queen Elizabeth II.
He has gone on to be a successful artist, specialising in the duality of life, from the good to the bad, the happy to the sad and light to dark. In addition, he documents the so-called insignificant moments of life, the events (or non-events) that occur in-between that which we determine to be significant.
In an essay entitled The Representation of Beauty, the writer Maria Pia Cappello described Furr as a "great painter that uses Newton's optical theories suggesting subjective analysis, states of mind, happiness, warmth and anxiety".
This suggests the artist's preoccupation of the human experience, which confounds and excites. Life, if we brood on it too deeply, can seem so strange and beautiful, that it can beggar belief that we exist at all.
Cadogan Tate has a long history of delivering high quality fine art transport, shipping and storage solutions.