Sunny days that seem to stretch on forever (until they're broken by a sudden downpour) and the tinkling tune of the ice cream van doing the rounds. Good old British summertime. But 99-toting vans seem to be a dying breed, so get a little Mr. Whippy in your baking with these simple cupcakes complete with fondant icing topper.
Ingredients For Your Cupcakes
We'll use a simple vanilla cupcake recipe, for which you will need:
• 100g/4oz self-raising flour
• 100g/4oz caster sugar
• 100g/4oz butter
• 2 tsp vanilla extract
• 2 medium eggs
This should make about 10 cupcakes in total, ideal for sharing with friends and family. Because the recipe is so basic it's easy to whip up quickly and simple to make a larger batch.
For decorating the cupcakes gather the following:
• White fondant icing
• Pink fondant icing
• Yellow fondant icing
• Brown fondant icing
• Apricot jam – boiled and strained to remove any fruit lumps
• Icing sugar
• Cooled boiled water
• A sharp knife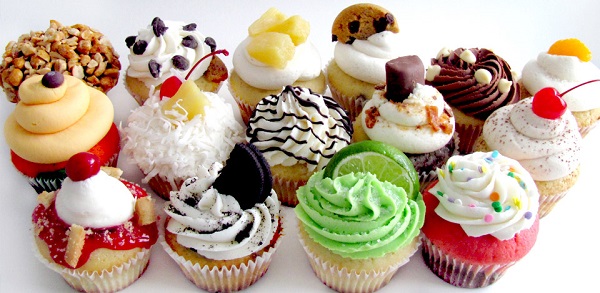 How To Make Your Cupcakes
Before making up your mix be sure to preheat your oven to 180oC/350oF and line a cupcake tray with enough paper cases.
1. Make sure your self-raising flour has no lumps by sieving it into your mixing bowl.
2. Add the caster sugar and butter.
3. Beat your eggs in a separate bowl then add to the rest of the ingredients.
4. Combine the ingredients with an electric mixer or by hand.
5. Whisk the mixture for a couple of minutes. It should have a smooth and creamy consistency.
6. Carefully spoon your cupcake mix into the cases. Fill each case about halfway as they will rise considerably during baking.
7. Pop the cupcakes into the oven and bake for about 10-15 minutes. When ready the cupcakes should be a golden brown colour and a skewer inserted into one should come out clean.
8. Leave the cakes to cool fully on a wire rack before decorating.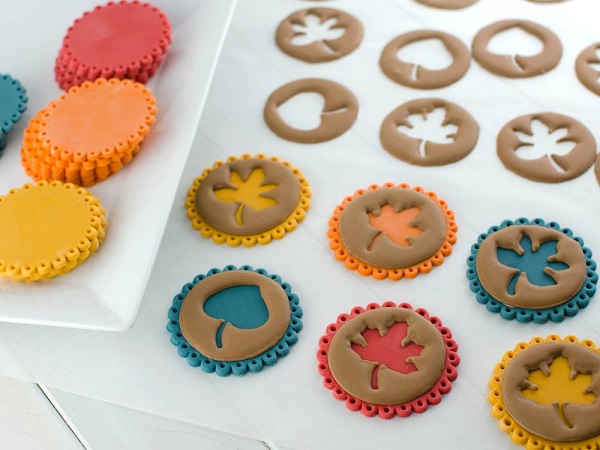 Making Your Fondant Icing Toppers
Once the cupcakes have fully cooled, you can begin adding the toppers. Give your work surface a liberal dusting of icing sugar to stop the fondant sticking. Then it's time to make the plaque, which will be the base to set your fondant ice creams on.
1. Knead and work your white fondant icing until it is pliable.
2. Roll it out to a depth of about 5mm.
3. Using a circle cutter that is the same diameter as your cupcake press out the appropriate number of circles.
4. Brush some of your boiled apricot jam across the top of each cupcake and then place the fondant circles on top.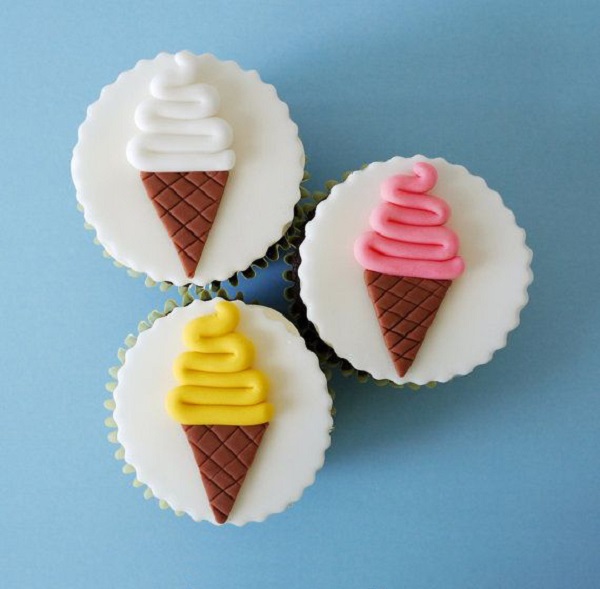 The ice creams are simple to make. First tackle the cones.
1. Knead and roll out a small amount of brown fondant icing.
2. Using a sharp knife score the surface with a crosshatching pattern to give the icing a waffle cone look.
3. Cut out small triangles of brown fondant then stick onto the cupcake using some cooled boiled water
Now for the ice cream swirl. We'll use yellow fondant icing for this one, so just repeat the same process for each colour of icing.
1. Pinch of a small piece of yellow fondant icing and knead it in your hands until it's soft.
2. Roll the icing out into a thin sausage shape, trying to keep it as even as possible.
3. Cut the fondant into sections about 2 inches long each.
4. Gently bend the icing into the stacked shape of a soft serve ice cream swirl.
5. Pinch the top to give it a pointed peak.
6. Fix the fondant icing into place using cooled boiled water.
Fondant icing cupcake toppers like these are simple ways to liven up your next baking project. Cake decorating doesn't have to be complicated to be effective, so this summer add a little extra sweetness to your cupcakes with these ice cream cup cake toppers.